Course details
Every day OK ♪ No charge, All-you-can-drink course for 2 hours 1400 yen (tax included)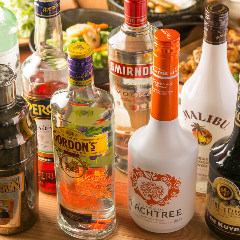 By using a coupon1400 yen
tax included
All-you-can-drink available

◆ We have prepared full drinks all you can! Over 80 kinds! If you want to draft a draft beer, premium all-you-can-eat is recommended!
Reservation deadline

Until 23 o'clock on the desired shopping day
Available days for reservation

Monday - Sunday - Public holidays - Holidays
There is no time limit for your seat! @ + 500 yen for premium drinks including draft beer etc All you can extend for 30 minutes at @ + 450 yen ♪ @ Order system is more than 2 persons per person! For men Will be 1900 yen (tax included).
Course menu
You can change to premium all you can drink including draft beer at + 500 yen ♪
It is ordered more than two items per person ♪
There is no time limit for your seat
Please relax yourself as if you were at home!
+ 500 yen for 30 minutes, + 900 yen for 1 hour extension ♪
We are pleased to order a drink separately!
All-you-can-drink menu
·beer
· Heartland (draft beer) / Red Eye / Shandy Gaff / Cork Beer / Grapefruit Beer
· Sour · Chu-Hai
· Shochu water split / Chuhai / Lemon sour / Grapefruit sour / Oolong hi / Jasmine high / Green tea high / Tomato high
·whiskey
· High Ball / Cork High / Ginger High
· Cocktail (Cassis · Peach)
· Cassis orange / cassis grape / cassis soda / cassis oolong / regga punch / fuzzy group / peach grape / peach tree fizz / peach ginger / peach jasmine
· Cocktail (Jin · Malibu · Vodka)
· Gin Tonic / Jim Buck / Jin Ricky / Zincok / Malibu Coke / Malibu Orange / Screwdriver / Moscow Commu / Bulldog / Vodka Tonic / Bloody Mary
· Cocktails (Lam Apelor)
· Rum coke / lamb back / Bacardi tonic / lamb orange / apelol soda / ape roll orange / ape roll ginger / apelrol tonic
· Chinese sake
· Jar pot, Shaoxing wine / Keika Chen
·wine
· Red wine / White wine / Kiel / Cardinal / Splitzer / Kitty - / Sangria / Carimocho / operator
·Soft drink
· Soda water / tonic water / orange juice / grapefruit juice / cola / ginger ale / tomato juice / oolong tea / jasmine tea / green tea
2019/01/08 update